Important update: Google Chrome V80 and http:// links
Mar 17, 2020
The Google Chrome Browser v80 has been released and this will affect all streams with HTTP protocol.
The publication of this new version brings a major change in how this browser will behave particularly for mixed contents in the years to come.
YesStreaming is aware that links should use HTTPS protocol in able for the stream to play in the browser thus we have been providing SSL links for clients who requested it ever since Google started rolling out their three-step plan(v79 to v81). In fact, our R&D team has been working on this.
As of this time, we have to manually set it per client as they are requested until we have come up with a solution to have this automatically set as default.
Update as of 03/17/20: As part of our continuing efforts to provide you better service. We have streamlined the request for SSL stream link by enabling an addon for each service that can be added on your service in order for us to set up your dedicated SSL Stream Link. To do this, just go to Services > View Available Addons, order SSL Stream Link Addon and select your service. Once ordered, you will have to wait approximately within 24hours for the ssl stream link to be enabled and showed on your product service page.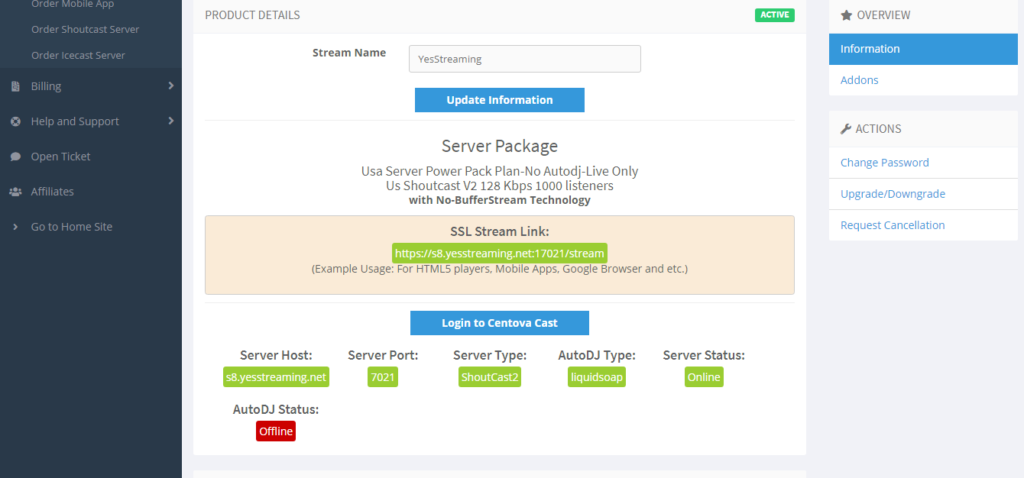 Please note that this only applies for Centovacast panel clients. Geo-blocked servers already has the ssl stream link by default.
If you have any difficulties and concerns, please contact us.
Thank you.
By: admin
---
Latest Posts